What You Need to Know About Thin-Film Coating
What are Physical and Chemical Vapor Deposition (PVD and CVD)?
PVD thin-film coating is a process in which a solid material, often a metal, is vaporized in a vacuum and deposited, atom-by-atom, onto the surface of a part. This material may be combined with nitrogen, oxygen, or a carbon-containing gas to form compound materials. This process forms a thin, bonded, metal or metal-ceramic layer on your part or product's surface that greatly improves its appearance, durability, and/or function. The deposition process can be easily customized to change the color, durability, or other characteristics of a coating.
PE-CVD (plasma enhanced chemical vapor deposition) thin-film coating is a similar process in which the atoms in a gas are energized and deposited on a surface. VT Diamond™ coatings (DLC – diamond-like carbon) are an example of a thin-film coating deposited using a PE-CVD process.
Download our free introductory guide to PVD coating
How do VaporTech Thin-Film Deposition Systems Work?
PVD and PE-CVD coatings are deposited using a thin-film deposition system. VaporTech systems consist of a vacuum chamber, pumping system, and power supplies that drive the deposition process. A batch of parts are loaded into the vacuum chamber and coated in a fully automated process. Once a thin-film coating is applied, parts may go directly to assembly or packaging. Systems are available in multiple sizes to coat small or large volumes of different size parts (up to 1.2 meters or 48 inches). Both metal and plastic parts can be coated using unique VaporTech low-temperature thin-film processes.
Frequently
asked
questions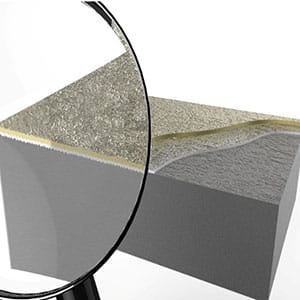 What is PVD coating? How does it work? What are the benefits? Answers to FAQs.
How PVD and CVD can help your business
Read and download detailed information about coatings, equipment, and more.
Easily integrate deposition systems into your existing processes
Collaboration:
Our scientists work closely with you to create coatings customized for your specifications.
Installation/Training:
We provide onsite installation and train your staff.
Support:
To keep your equipment running for years to come, we provide maintenance and support.
Where do you want to go next?
Get answers
Get answers from a VaporTech specialist.