About VaporTech: A Leading Manufacturer of Thin-Film Deposition Systems
A Trusted Partner
VaporTech designs, builds, and services thin-film deposition systems that deposit PVD and PE-CVD coatings to make your great products even better. We're committed to what we do because we know that a product's finish communicates its quality in an instant—and emphasizes a brand's commitment to quality and value. For more than 20 years, our thin-film coating equipment has been helping customers apply beautiful and durable hard coatings that enhance and differentiate the look, feel, and performance of home hardware, medical devices, industrial tooling, consumer electronics, sporting goods, and many other products. We are based in beautiful Longmont, Colorado, with global sales, service, and support.
Optimized for Your
Unique Needs
Your product is one of a kind, and your thin-film coating should be too. Do you need functional properties or a color match? Coating optimization gives you the perfect solution.
We're in
This Together
When you purchase a VaporTech thin-film coating system, you're getting a high-quality piece of equipment and comprehensive support services. We support you with ongoing maintenance, parts, service, and upgrades.
What Sets VaporTech Apart?
Trusted by major brands around the world.
Complete installation, training, engineering, and service offerings.
Proprietary LTAVD® (low temperature arc vapor deposition) process.
Proprietary RAAMS™ high-density thin film process.
Versatile Thin-film deposition systems for surface finishing with integrated cathodic arc, diamond-like carbon (DLC), chemical vapor deposition (CVD), and/or sputtering capabilities.
Solid corporate foundation as a proud division of Masco Corporation (NYSE: MAS).
Ongoing investment in research and development to continue to provide robust, cost-effective systems and desired finishes.
Frequently asked questions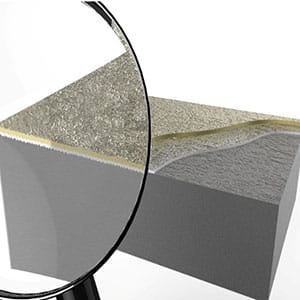 What is PVD coating? How does it work? What are the benefits? Answers to top 10 questions.
DID YOU KNOW?
Eight major industries using thin-film deposition equipment are:
Industrial Tooling
Transportation & Energy
Medical Devices
Luxury Goods
Home Products
Consumer Electronics
Sports Equipment
Firearms
Where do you want to go next?
What's going on?
Learn about upcoming industry events and news.
Get answers
Get answers from a VaporTech specialist.